Discussion Starter
·
#1
·
Disclaimer: I don't know what I'm doing, I just randomly tried things and it worked. If you follow this guide, you may damage your car, someone else's car, your property, your body, or even kill yourself. Don't do any of this below unless you're an expert, and know what not to do as there are things below that are wrong. Before you begin, you may want to disconnect your 12 V battery to make it less likely that the window will violently and painfully saw off your arm, finger, or other various appendages.
My window regulator on the passenger's side failed the other day, on my '13 Volt when it had 66 kmi on it. First off in my opinion that's way too early for this to occur, and seeing how this regulator is built (with tons of plastic) this isn't really surprising. On the plus side, the disappointment of the poor construction is balanced by a very simple replacement. I was scared this would be difficult, however I banged it out in less than an hour.
Before I began, I read this thread:
http://gm-volt.com/forum/archive/index.php/t-227994.html
And watched these videos:
http://www.youtube.com/watch?v=tsiaTl8Ztyo
http://www.youtube.com/watch?v=MeRK8xPXHms
These give you a good start, I'll try to provide a few more details below.
Tools you'll need:
7mm socket
10mm socket
small flat blade screw driver
wide/big flat blade screw driver
Either tape, or large clamps
It may be handy to have plastic fender removal tools. I didn't use these, and didn't damage any of the clips.
1) Remove the 3 hex headed screws, behind the door handle and in the door pull. These are described in the video's above, alas I didn't photo this. I did, however photo the cover located behind the door handle to help you figure out how to pry it out easier. I used the small screw driver.
2) With the 3 screws removed, take your large screw driver or your fender removal tools and begin prying (gently) on the door panel. Begin on the bottom of the door, make your way around to the top, and then go back to the bottom and go around to the top on the other side. When these are all pried loose, push the lock down if it isn't already, and gently pull the door panel up. As the door panel lifts off, it will be connected by two things. First is the door mechanism cable, gently pull/push on the plastic tab on this to lift it out of the holder, and then the handle socket. This will become clear to you after fidgeting with it for 5 seconds, it's very simple. Then there's the power connector to the door itself. Push on a tab, and pull the connector out. When you've completed this, it will look like this:
3a) Now you'll remove the door handle mount, which is the two 7mm hex screws shown below.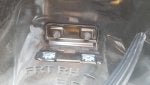 to be continued