What do you do when your Voltec 240V EVSE dies? Instead of throwing it away, you could remove the circuit board and replace it with OpenEVSE and other off-the-shelf components. I am not an Electrical Engineer so I invite those who are to comment on any errors in the schematics, etc. below.
I tried to make the OpenEVSE schematics a bit easier for those who are handy with basic tools and a soldering iron, but like me are not a electronics expert. Caution must be exercised of course when working with live 240V current as it can be a killer (literally). I provide my notes and pictures, etc. below as-is, with no warranty as to fitness of purpose, suitability for your use, yadda, yadda. Consider this an experiment, not a commercial product. That said, many have built their own EVSE in a similar way.
I have not done one of these conversions before. Special thanks to our own Fishhawk for being a Voltec conversion pioneer, and for providing some photo's, technical help, and inspiration. Also thanks to Chris Howell at OpenEVSE
http://code.google.com/p/open-evse/
who helps supply the boards, parts lists, schematics, etc. that this is based on.
Image 1. Gutted Voltec (mine) with some labels.
Image 2. Mounting Plate. A "dress pattern" based on Fishhawks home-brewed aluminum mounting plate.
Image 3. "OpenEVSE Plus" schematic. I added color coded wires, as well as the wiring for the Voltec J1772 cord handle light, and the Voltec front cover LED wires.
Image 4. Finished Project. A semi-realistic illustration of Image 2 and Image 3 combined.
Image 5. Fishhawk's Voltec Conversion with labels. He used an earlier OpenEVSE board, so his wiring is slightly different, as are the positions of his fuses. See
http://gm-volt.com/forum/showthread...240V-charger-just-failed.&p=216844#post216844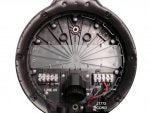 Dead Voltec to Live EVSE Parts List
Thanks again Fishhawk and Chris Howell at OpenEVSE

Total Cost ~$273
(plus one dead Voltec)
Parts from OpenEVSE Project (Chris Howell) Total: $175 incl shipping
Parts from Digikey: Total: $51.42 incl shipping via US post
http://code.google.com/p/open-evse/wiki/EVSE_EV_ChargeAmerica_Upgrade
Quantity | Part Number | Description | Unit Price | Extended Price
1 |
PB486-ND
| RELAY GEN PURPOSE DPST 30A 12V | $13.03 | $13.03
1 |
582-1018-ND
| TRANSFORMER GROUND FAULT WIRE LD | $10.65 | $10.65
2 |
283-2850-ND
| FUSEHOLDER 1/4" 30A 250V PNL MNT | $3.51 | $7.02
4 |
F1779-ND
| FUSE 250V SLO-BLO 3AB 30A | $1.68 | $6.72
6 |
726308-1-ND
| CONN ADAPTER DOUBLE TAB .250 | $0.94 | $5.64
1 |
OF471JE-ND
| RESISTOR 470 OHM .5W CARB COMP | $0.52 | $0.52
1 |
OF561JE-ND
| RESISTOR 560 OHM .5W CARB COMP | $0.52 | $0.52 (just in case the 470 doesn't work out)
1 |
CF12JT680RCT-ND
| RES 680 OHM 1/2W 5% CARBON FILM | $0.14 | $0.14
4 |
492-1108-ND
| SPACER NYLON #6 SCREW 1/2" | $0.16 | $0.64 (for mounting the circuit board to the plate)
Parts from Home Depot $35.20
Parts from Menards $10.89
Parts from Radio Shack or Frys Electronics (if not ordered via Digi-Key above)
680ohm resistor (for Handle LED).
560ohm or 470ohm resistor for front Cover LEDs. 1/2 watt resistors may be good enough. (We are a bit unsure, but think the 470 ohm is what is needed).
10MM Standoffs (pkg of four ~1/2" spacers with screws) $3.78 (Also avail at Frys Electronics, $1.89 Frys#6473562)
Other Parts
Aluminum, steel or plastic mounting plate (self supplied and fabricated)
Wire. I used #10 copper for the twin 120V power lines (but #12 would be fine and easier to work with), and #18 for the relay to OpenEVSE Plus (same wire as used inside 4' fluorescent fixtures)
Screws for mounting the relay, OpenEVSE Plus. #6 machine threaded, 1/2"-3/4" long.
NOTES
1. The OpenEVSE can take either 120V or 240V in (it autoswitches), so 120V from a wall outlet can be used to test with the EV Simulator. I plan on using it for 240V only via a plug.
2. Looks like pin #1 on the Relay is the correct connection point. According to Chris Howell, "One of the pins on the relay output is tied
directly
to +12v so that would be a good place to tie in."
Feedback welcome.
3. The front panel LEDs are tricky. The way they are connected in this schematic, the LEDs only show power, not any state information. A 9v battery, resistor, and test probes were used to test the front panel LED pins until a set of pins made both LEDs light up.
In the Voltec front panel, it looks like #3 pin in the top row (L to R)
connects to the +12V DC,
and #1 in the bottom row connects to GND
. The LEDs
may
not light if the unit is plugged into a 120V GFCI outlet rather than 240V.
Using a wiring harness from a pair of speaker-PC motherboard connectors (
found at a PC shop, possibly Radio Shack?
), the pin was slipped out of the black plastic, and slid into another hole to get the pins to line up as needed. The ground wire was connected to ground on the OpenEVSE, and the red wire was connected to a 680ohm resistor (470 ohm may be better: brighter LED) soldered to the same copper +12V pad as the J1772 cord handle flashlight 680ohm resistor. It's this front panel LED resistor I thought should maybe be a 560 or 470ohm resistor, instead of the 680ohm.
4. The OpenEVSE project also offers a cool RGB LCD display kit. That is an options for those who want more than two green LEDs on the Voltec front cover. The LCD can provide more detailed data. See the OpenEVSE website for details.
If you have used this with the Voltec and can provide step-by-step how to photos, please let me know.