Fewer and fewer EV's, hybrids, or even standard cars include a spare tire from the factory. For example, the Leaf, Prius, iMEV, Tesla do not have them. Weight, cost and space considerations have led to "no spare" by the manufactures, but the other side of that is the cost and inconvenience to the driver if and when they do get a flat. Having a spare can transform a bad situation into just an inconvenience.
WHAT CAN YOU DO?
Well, I compromised. I do not want to get into 1 or 2 hour towing ordeal when I can put on a spare doughnut tire in 15 minutes or so and take care of the tire later when it is convenient for me. While I don't carry a spare tire, jack, and lug wrench in the Volt, I do keep them in my garage instead. In case of an unfixable flat during local driving, either they can be driven out by a friend or spouse or a the car can be towed home where I can install the spare.
For the "I'm going to be in the middle of nowhere with no cell reception" scenario I can throw the donut spare, jack and lug wrench in the back cargo area, lashing them down with two nylon compression straps around the tire and through the cargo compartment D-rings.
2016+ Volt Wheel Size, Spare
Gen 2 Volts have different wheel specs than Gen 1 Volts. The 2016 bolt pattern is 5x105xm12, rim size is 17x7 Offset is 41 mm, center bore is 56.6. So any wheel for a 2016+ needs to fit these dimensions, whether spare tire or not.
Unlike Gen 1, Gen 2 have an optional spare tire kit part no. 23315255 (superseded by part number 84034699), though that may just be the space saver spare. For pictures, pricing and instructions see a later post:
https://gm-volt.com/forum/showthread.php?48058-Volt-Spare-Tire-Guide&p=2897770#post2897770
The Gen 2 Volts share the bolt pattern and center bore specs of the Cruze (But stay away from Cruze Diesel wheels, they have a 5x115 bolt pattern).
The 2011-2015 Cruze 7" wide, 17" wheel (7Jx17 ET42) offset of 42 should be close enough to fit a 2016+ Volt. The 2011-2015 Cruze 6.5" wide, 16" wheel (6.5Jx16 ET39) offset of 39 may also be close enough to fit a 2016+ Volt, but the 2016+ Cruze 16" wheel 7Jx16 ET41 is an exact match for the Volt offset. Some have used these for Gen 2 winter wheels by mounting a tire that closely matches the Gen 2 Volt's 25.5" diameter.
For a spare, the 2011-2015 Chevy Cruze Spare kit will work and can be bought on ebay. The individual parts are: Compact Spare Tire T115/70R16; Sold by Maxxis International, Wheel GM Part #13259230, Jack GM Part #13505394, Wheel Support GM Part #13273001, Jack Holder GM Part #13373497, Lug Nut/Jack Wrench GM Part #13348506, Hand Nut GM Part #90126756, Bolt GM Part #13263725. Optional Parts: Car Block GM Part #15116183 (old singly, so you need to order 2), Wrench & Car Block Bag GM Part #20986100, Jack Handle GM Part #13255680 See the MilliVolt Mod here
https://gm-volt.com/forum/showthread.php?221834-Millivolt-Mod-Spare-Tire-Kit-REDUX
and
https://gm-volt.com/forum/showthrea...e-Tire-kit-part-number.&p=2982105#post2982105
Run Flat Tires as an Option
Bridgestone DriveGuard Run Flats are available for Gen 1 Volts in 215/55-17 OEM size, have 12/32 tread depth, come with a 60k mile warranty and weigh in at 28lbs., 9 lbs. heavier than the 19 lb. OEM tires. Expect perhaps a 5-8 mile decrease in battery mileage and MPG (similar to worse than winter tires) in exchange for reduced risk of needing a tow to a dealer
in some situations
. Run flats often end up sacrificing themselves to do their job. In other words, you may likely end up needing a new run flat tire by the time you get to the tire store/dealer. You swap a "tow plus tire patch" for a "drive to dealer plus new tire" (assuming they have one).
Run Flats are not impervious to punctures, instead they are "designed to offer almost the same riding comfort as conventional tires while providing temporary extended mobility for a distance of 50 miles at up to 50 mph even after a puncture has allowed complete air pressure loss". Stiffer sidewalls allow this at the expense of some ride and handling. The unyielding sidewalls of run flat tires transmit most impact forces to the wheels rather than soaking up impact like radial sidewalls do. This makes it more likely for impacts (think potholes) to bend or crack the wheel. Also important to note, if the sidewall is severely damaged or punctured, the run-flat is rendered useless. You'll need a tow and a new tire just like you would with the OEM tires.
Some who have had run flats report they are more expensive (these cost ~$50 more per tire), the tread doesn't last as long, and they don't handle as well. We'll keep an eye out for Volt driver feedback on these Bridgestones. See
https://gm-volt.com/forum/showthread.php?114930
MOUNTING SPARE TO CARGO DECK (2011-2015)
Gen 2 Volt tire kits can be used to mount the tire to a threaded hole below the cargo deck. Gen 1 (2011-2015) owners don't have this option. For those who want to carry a spare tire on long trips in case they get an unfixable flat, or who simply don't want to wait for a tow truck, here's an idea for mounting the spare to the cargo deck using off-the self hardware. It would require a hole be drilled in the rear cargo deck, one that could be plugged when not in use.
In addition to bolting the spare to the deck, it should be strapped to the 4 hold-downs as well. I think a ratchet type webbed strap should be used, not bungee cords.
See
https://gm-volt.com/forum/showthread.php?115130-Spare-Tire-Cargo-Mount
OPTIONS FOR A SPARE (2011-2015)
Wheels for the Volt need to match some critical dimensions: a 5x115 bolt pattern with "high offset" and a 70.3 center bore. A Cruze wheel will NOT fit, as it has a 5x110 pattern. However, older Cadillacs are a match.

1. 2003-2007 CADILLAC CTS STS Aluminum Spacesaver Spare Tire.
It seems the generation 1 Cadillac CTS (MY 2003 - 2008) had the same 16" spare size. However, some of the spares are 5 spoke aluminum wheels while others are solid steel wheels. The 5 spoke aluminum wheel fits both front & rear of the Volt, while the steel wheel will only fit the rear (the steel rim will not clear the Volts front calipers).
The 5-spoke spare has an interchange number 560-08050. Interchange numbers are used by auto recyclers to categorize their parts and to indicate possible substitutions, e.g. any spare with the same interchange number should fit.
If you search eBay or your local auto junkyard inventory with this interchange number, you may be able to find the spare. Just look through eBay until you see a CTS spare that looks just like it. They will likely be $50 or more. It also seems that the Eldorado 86-98 has a full sized 16"x7 spare (T125/70 R16 96m) that should fit the Volt, but they seem to be an extinct animal.
The 17" diameter version of the 16" aluminum spare discussed above has an interchange number is 560-0805
8
. Overall diameter of the 145/70R17 tire that is typically on this wheel is 25" which is about 5% (-1.3") smaller than the standard issue 215/55R17. Overall diameter of the typical 16" compact spare tire 120/70R16 is 22.9" which is about 13% (-3.42") smaller than the 215/55R17.
2. Cadillac Steel Spare
Though the 5 spoke aluminum wheel is nicer and lighter, a steel spare can work too, and at about $10-$35 the price is hard to beat. A 2007 Cadillac DTS 17" steel spare will fit both front and rear on the Volt. My own steel donut-spare from a Cadillac Deville (1998 I think) and is stamped RJF k498 17D B with a Firestone T125/70R16 tire. It fits the Volt rear only (where most puncture flats occur), but can still be used for a front flat by simply mounting the spare on the Volt's rear and moving the good rear to the front.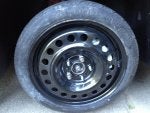 Donut spares are meant to get you somewhere in an emergency. They are not a full-sized replacement obviously. The donut is easier to handle if my wife needed to bring it out and it gets the job done.
3. Volt Full Sized OEM Wheel.
Re-manufactured or new, these can sometimes be found on Ebay or gm-volt and can be used as a full-size spare. This can then be used in a 5 wheel tire rotation schedule, adding extra life to your tires. It can also be a ready to use replacement for a flat, shredded or otherwise damaged tire (or wheel).
OTHER EQUIPMENT
1. Scissors Jack.
Make sure the jack lifting head has a "valley", slot or crease that allows the Volt body's welded flange to nestle in it. A 2012 Chevy Cruze or Impala scissors jack will work, as will other jacks that have a "saddle " or slot for the Volts vertical body flange to fit into. Any of the GM jacks that look similar to the pics should work. The jack (and 3/4"/19mm lug wrench) can be stored under the rear cover in spaces that fit them on the right side if you don't mind carrying the added weight.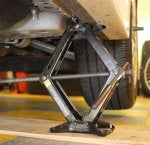 2018 Jack Different
The body to jack interface is different starting in 2018 and requires a different jack then the 2017. It has a flat head with a
side mounted saddle
for the pinch weld. See image later in this thread at
https://gm-volt.com/forum/showthread.php?48058-Volt-Spare-Tire-Guide&p=4596841#post4596841
See owners manual illustrations from 2017 and 2018 later in this thread at post #140:
https://gm-volt.com/forum/showthread.php?48058-Volt-Spare-Tire-Guide&p=4449306#post4449306
2. Lug Wrench.
The nuts require a 19 mm or 3/4" socket. I use the 3/4" end of my 4-way lug wrench, and a 3/4" socket on my torque wrench. 19mm seems a bit looser to me, but 19mm and 3/4 are so close it probably doesn't matter. Not that you are likely to be carrying around a torque wrench, but if you do the torque value on the nuts is 100lb-ft. You may already know the order in which the Volt lug nuts are tightened, but if not, tighten them in this sequence:
What if the wheel is stuck to the hub and won't come off? See
https://gm-volt.com/forum/showthread.php?45881-Wheel-stuck-on-hub
3. Tire Plug Kit.
l also keep a tire plug kit (T-handles; glue; rubber plugs) with gloves, a needle nose pliers and light in the cargo area just in case I can fix the flat without a spare or the goop. Walmart, Autozone and others carry these.
4. Tire Bag/Case.
If you plan to haul a spare in the rear and want to keep things clean, consider a $15 tire tote bag from Tirerack.com or Amazon
http://www.amazon.com/s/ref=sr_pg_1?...qid=1364605145
. Of course, I don't expect to need this often, so a black plastic garbage bag would work just as well for me.
5. Air Compressor.
Get out that air compressor and get familiar with how it works. One setting blows air, the other blows goo. You don't want to make a mistake! I even marked mine with a silver sharpie so I clearly know where to set the knob for air. If you have not practiced using the Volt's air compressor, you should (and so should anyone who regularly drives the car). The first time can be surprisingly difficult. You must press down on the selector button while turning it. You don't want to try to figure this out during a real flat, it just adds frustration.
6. Emergency Triangle Reflectors.
There is a cubby under the cargo cover sized for one of these kits. The US car does not come with the kit, but they can be purchased.
MORE INFO ON FLAT TIRES:
How Many Flat Tires Occur Each Year?
US - 220 million flats per year; about one flat per passenger car per year.
US - 23,000 vehicles are damaged due to blow-outs, to the point they must be towed.
US - 1.2% of traffic fatalities are due to tire-related accidents.
US - tire blow-outs are most frequent on light trucks in southern states during hot months.
UK - One flat tire (tyre) per 20-25,000 miles traveled.
UK - 30-40% of drivers had a flat in the last year.
UK - flats comprise 10% of total vehicle breakdowns.
EU - flat tires account for 28% of breakdowns of 112,000 commercial vehicles in 2010.
On average, a driver will have 5 flat tires in their driving lifetime.
What Types of Flats Occur?
25% are blow-outs; sudden loss of pressure with dramatic damage to the tire.
25% slow leaks that happen when driving; often result in a ruined tire from driving on it.
50% discovered when the car is parked; inconvenient but not normally ruinous.
What Areas of the Road Have More Debris?
Some roads may simply have more debris on them. Luck and where you drive play a roll in getting a flat.
And certain areas of roads tend to collect tire puncturing debris more than others:
road edges and shoulder
the crown of the road
traffic islands and medians
traffic junctions
outside of corners and bends
"Road debris, for the most part, tends to collect in areas where two-track vehicles such as cars and buses do not drive. In urban areas, this tends to be on the edges (shoulder) and on the crown of the road, and debris frequently collects around traffic islands and junctions. In rural areas, this tends to be in the middle of the lane and on the outside of corners and bends."
http://en.wikipedia.org/wiki/Road_debris
What Problems Are Related to Flat Tires?
It is dangerous to stop to change a tire on a freeway and/or at night. Pull as far off the road as possible.
It can be difficult and dangerous to raise the car with a jack. Read the owners manual!
Wheel nuts can be too tight to remove. Keep a breaker bar (a pipe extension) with your lug wrench.
Alloy wheels can stick to steel hubs making it difficult to remove the wheel. See solution at https://gm-volt.com/forum/showthread.php?45881-Wheel-stuck-on-hub
It can be hard to line up the wheel and the hub when replacing the wheel.
The dirty flat tire has to be lifted and stored in the trunk. Keep work gloves in the car.
If you get another flat before your tire is repaired you will be stranded.
They always happen at an inconvenient time. Practice changing a tire before you experience one.
http://excelmathmike.blogspot.com/20...ts-part-i.html
What are the Advantages/Disadvantages of Various Flat Tire Options?
http://excelmathmike.blogspot.com/20...s-part-ii.html
What's Pushing the Move to No Spares?
"Automakers save money by selling cars with four tires instead of five, and the weight savings helps them boost vehicle gas mileage.Adding even a 10th of a mile of efficiency to their federal fuel economy tests might allow automakers to reach a number such as 19.5 mpg on a vehicle, which they can then round up to 20 mpg on the window sticker."
"All manufacturers are looking at this," said Alan Batey, U.S. vice president of Chevrolet sales and service. "This is one opportunity to get weight out of vehicles and make them more fuel efficient.... It will take some time for people to understand this technology."
Chevrolet has been among the most aggressive of the major brands when it comes to scuttling the spare. The tire inflator kit in the Cruze sheds 26 pounds of spare tire and hardware and provides more trunk space."
"More expensive cars -- including nearly the entire BMW lineup -- are forsaking spare tires for run-flat tires, which can be driven at moderate speeds for 50 miles or so with a puncture. Petersen said there's less risk of being stranded by punctures in run-flat tires because they are built with reinforcement that can support the weight of a car. But run-flat tires are still not a perfect solution. "We hear a lot of complaints about noise, tread life and expense," he said."
"The improvements to tires has led to a decline in calls to the American Automobile Assn. for flat-tire roadside assistance in recent years, although some evidence shows that the trend could be reversing, if ever so slightly."
"Nationally, calls to AAA for flat-tire assistance fell from 4 million in 2006 to 3.6 million in 2010, accounting for about 12% of the organization's call volume."
http://articles.latimes.com/2011/jun...res-20110620/2