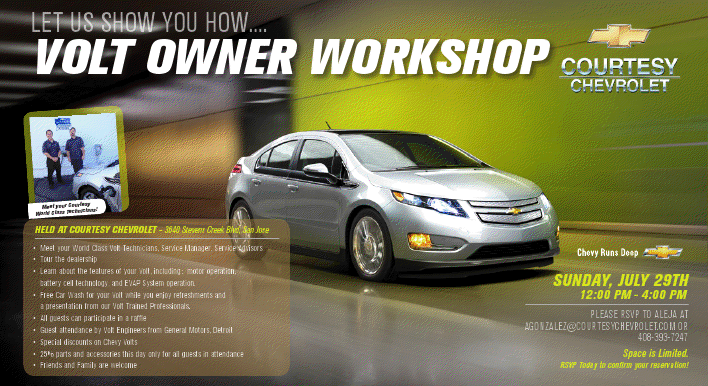 Where:
Courtesy Chevrolet
3640 Stevens Creek Blvd.
San Jose CA 95117
When:
July 29th 2012
Dear Volt Owners and Enthusiasts,
I would like to invite you, to Courtesy Chevrolet's 2nd Volt EVent of 2012. Our goal of the EVent is to educate our Volt customers, provide a fun environment to become more familiar with the Volts, have a chance to ask questions, and voice any opinions they may have about the Volt directly to their Volt Technicians and GM Engineers.
This EVent will take place from 12:00-4:00pm on a Sunday, July 29th. We will provide a BBQ and a fun casual atmosphere for our Volt customers, EV enthusiasts, and colleagues. Bring a friend! This clinic is open to the public.
The day will include: Lunch, presentations describing Volt features and technical information, test drives, free Volt car wash, a shop walk-through to show customers their Volts under the knife, Q&A, and other special guests.
We would be honored by your attendance. Please reply to confirm your attendance to the function to:
Cheryl Morrison
Phone: 408-572-8981
Email:
[email protected]
We look forward to seeing you there!
Alex Bo
Assistant Service Manager,
Service Engineer
Courtesy Chevrolet
3640 Stevens Creek Blvd
San Jose CA 95117
(408) 768-8240 C
[email protected]