Occasionally people want to remove the rear head restraints. This is a little tricky because there are two buttons that need to pressed at the same time while pushing/pulling the head restraint up. The second button is well camouflaged. I found that a small flashlight helped me see it better.
I pulled up the head restraint as far as it would go, then pressed both buttons while using the knuckles on my #2 button hand to nudge the head restraint up just a bit (you'll feel it slide past a restraining notch). Then it slides freely the rest of the way. Note I curled my index finger in order to engage the very slim #2 button with my finger tip. Pressing any other way got me nowhere.
Easy, once you know how.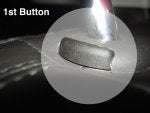 Fingers too fat? Some covered the end of a screwdriver with masking tape (to prevent marring/damage) and used it to press button 2. I suppose using a cloth instead of masking tape would work too.
Related posts
:
http://gm-volt.com/forum/showthread.php?37850-2013-removing-rear-headrests
http://gm-volt.com/forum/showthread.php?9097-Rear-Seat-Headrest-Removable