Though somewhat rare, pebble/stone radiator punctures can happen to any car, including the Volt. I (and now GM for MY 2013-2014) agree that a bit more protection would be helpful.
Road debris, whether pea sized pebbles, gravel, or rocks can puncture the battery coolant radiator with a unlucky "lucky" shot through the Volt's lower air intake louvers. This can be a $1500 - $4100 repair and is not a warranty item, though some dealers have been more sympathetic than others on this point.
So some owners have added an extra layer of protection to their car in hopes of avoiding the need for this type of repair.
$30-$300 GM Retrofit ?
Some have said that 2013 and 2014 models come standard with a plastic screen (see diagram below) mounted behind the grills and in front of the radiators, but that earlier model years do not have this screen. However, getting down with a flashlight and peering into the air intake I see that my 2011 also has this plastic screen. So do the 2013/2014 models have yet another screen? A different one? Or do all years have the same screen? To have a dealer install the screen is about $300. Or the parts are about $30 for those who can do it themselves.
Though some may question whether the plastic is up to the job. The injection-molded plastic screen appears designed to distribute the energy from rocks and small road debris over a larger area of the radiator fins to protect the coolant tubes from puncture. I'm sure it's better than nothing and may be quite adequate except against smaller pebbles.
$25 GM Part 22856576
http://www.gmwholesaledirect.com/oe-gm/22856576
$0.44 Screen Clip (10121502) (not sure how many are needed)
http://www.gmwholesaledirect.com/oe.../radiator-and-components/screen-clip/10121502
For details see
http://gm-volt.com/forum/showthread...ection-service-bulletin&p=1145426#post1145426
$12 DIY Exterior Screen
(or have one made for you)
A few years ago I took the added step of installing a screen to the lower air intake grills of my 2011 to hopefully reduce the chances of a pebble puncture "lucky strike". My solution cost me $12 and a few hours tinkering. After two years, I see some of the black paint has been knocked off by impacts with stones or pebbles (I assume), so maybe it is helping.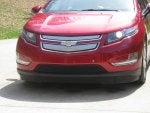 See this link for more details:
http://gm-volt.com/forum/showthread.php?35945-My-12-Air-Intake-Rock-Screen
VoltScreen
Here is a link to a site by another GM-Volt member (also named Steve) who is selling these as "VoltScreens" finished and ready to use:
http://http://voltshelf.weebly.com/new-voltscreen-radiator-protector.html
Here is a variation using a 4" wide strip of 1/4 " hardware cloth installed behind the air intake grill by pulling 4 push pins on splash pan and slipping the wire cloth in behind the grill attached with many small zip ties.
http://gm-volt.com/forum/showthread.php?104081-Plastic-Floor-Pan-Damage&p=1513745#post1513745