2012 Volt - 188K
I just recently got a code for P0324 Knock Sensor Control System error. I thought it might be a fluke, so I cleared the codes on my scan tool. Next time the ICE turned on, the code came back and the MIL came back on.
Next, I tried replacing the knock sensor (assuming it was faulty) which did not fix the problem, as the code came back again. I have already replaced the valve cover gasket previously, so it is not related to that. Spark plugs were replaced last year, so I don't think that is related either. Another thing of note is that the mpg (when just looking at gasoline consumption) is about 30-35mpg.
However, I have noticed that there has been a slow coolant consumption in the engine coolant reservoir over the past few months (as the ICE kicked on more frequently during colder months). I don't see any leaks around the water pump or other coolant connections, leading me to believe there may be some sort of head gasket leak. There is no coolant in the oil, and when I look in the oil fill port the valvetrain looks clean and lubricated.
I may get a coolant pressure tester or something similar to check and see if there is actually a leak. It could make sense though, as if coolant is getting into the cylinder, it could be making the engine run rougher, but its not bad enough to cause a misfire. I tried looking into the cylinders by taking the spark plugs out, but I think I'd need a boroscope camera or something to actually see if there is any sort of evidence for coolant leaking in.
Anyone have anything similar to this issue? I know some 1.4L Chevy Cruze owners also have this problem so I may check cruzetalk for more info (engine is pretty much the same, no turbocharger nor accessory drive belts).
Also, a picture is attached of the knock sensor location. It is quite difficult to remove as it is right next to the intake manifold, and it uses an E-torx socket. (You can see the socket and attachment on the bolt in the photo)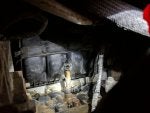 Here's an audio clip (sorry had to lessen the quality + length)
View attachment volt.zip