As promised, here is my My Ally Lease Return Experience - Enjoy
The Final Disposition
I leased a 2012 Loaded Volt from out of state (MO) on 8/31/12 with the following terms:
MSRP = $45,680 (pretty much loaded)
Adjusted Cap Cost = $36,045
Out of pocket costs = $1130.15 (AZ VLT & 1st mo lease payment)
Lease Payment = $358.87 (includes AZ tax)
Lease Terms = 24 month/30K miles (15K/yr)
Delivery from MO to AZ $750
I returned the car 6 months early on 2/22/14 as I had used up all my miles. Keeping her longer would have cost an arm and a leg in excess mileage fees. I only went over by 18 miles for a whopping $3.90. BTW they actually tax the excess miles!
Contrary to what some folks may think, there is no penalty to return a leased Volt to Ally early, unless it is so stated on your lease. As a matter of fact, I saved money by returning it early (see "Less - Unearned Rent Charges") below.
Here is a copy of my Final Account Settlement: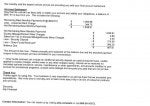 So you see I actually saved almost an entire payment ($344.75) by turning her in early. Plus I got $331 back from the AZ DMV by cancelling my registration early as well.
The Experience
This was my first lease that I considered an extended test drive to see if the new tech was right for me. It was as I bought a 2014 Volt last September
Anyway I was worried to death the entire time about excess damage fees, excess tire wear, etc., so I probably won't lease again; too much stress for this worry wart.
Since I bought out of state I needed to return the car to a dealer in AZ, read, I did NOT lease from them.
So I emailed the closest Chevy dealer, AutoNation Chevrolet Superstition Springs in Mesa, AZ. They responded promptly, and a couple of emails later I was put in touch with their internet department manager.
What do you think his first question was? Yep you got it, "Will you be leasing another car?" Of course when I told him I had already bought a new 2014 Volt...the conversation went dead silent!
I sent a couple more email and got SLOWWWWWWW responses. Finally he said all I needed to do was bring the car in anytime and to have my Ally account number. When the day got closer I told him EXACTLY when I would be there.
Return Day
On my way to the dealer to return the car I had a nice little adventure at the car wash that you can read here:
http://gm-volt.com/forum/showthread.php?101193-Volt-Won-t-Start-After-Car-Wash-On-the-way-to-turn-in-(Leased)!!!-Hint-Diagnostic
So after I got that all sorted out I arrived at the dealer and went to the front desk to ask who could help me with my return; she sent me to a long desk with 5 managers sitting there. I walked up to the closest fellow.
Hello Sir, I was hoping you could help me with a lease return. He goes, "Ummm, well, I don't think that is going to happen today, we are pretty busy? " Blood pressure is rising
!
Busy my ass! This is 10AM, most of the sales staff were just standing around jabbering. Not to mention the 5 managers sitting there with doe in the headlights looks on their faces. Hell, I planned ahead, my wife had to alter her VERY busy schedule to pick me up after my son's soccer game, I just paid for a deluxe car wash, etc!
I remained calm and said, "But Egor told me to just bring it in." He goes oh then let me see if he can help you then."
Egor came over and was not thrilled to see me, but he did get the odometer statement from the oh so helpful manger and he helped me. He looked briefly at the car, looked at the odometer and asked me to move it to a holding location. Then we went in an finished filing out the odometer statement. That was it, then I left. It took all of 1/2 hour.
To say this experience pissed me off is an understatement. Do you think they would have been more helpful if I said I wanted also lease or buy that Corvette that day? I did write Chevy to tell them how dissatisfied I was. I mean you LOVE to lease them but treat the customers like annoyances when they return them?? I got a reply from a Volt advisor pleading the same old tired "they are independant dealers...BS." I replied that if you keep relying on that same lame spiel it is only a matter of time before the next bankruptcy.
The Drama Continues
So I wait patiently to see a copy of my return inspection report at:
https://www.inspections.ally.com/viw/aspx/general/customerlogin.aspx
After 10 days I chatted with an Ally rep. online on 3/5/14. I found out that the incompetent dealer never sent the odometer statement in. This is what prompts Ally to dispatch the inspector. Thankfully I had a copy that I faxed over to them. Good thing they accepted it as they could have told me it had to come from the dealer.
So all should be good right. That's a big
NO
there my happy readers.
Since there still was no inspection report a week later, I chatted with Ally again on 3/12/14. They said someone would call me back. They did, the next day.
Come to find out the inspector could not find my car. Why you may ask. The form (odometer statement) my incompetent dealer uses for leases had header information for a dealer in Adrian, MI (looked like it was a fax copy)! Guess where Ally sent the inspector? BTW the day I turned in the car I called Ally to inform then the when's and where's, yet they still sent the guy to the wrong place.
Anyway I gave them the correct dealer info again and waited.
On 3/17/14 the inspection report showed up on the site I listed earlier. Freakin FINALLY! It is now just 5 days short of a month since I turned the car in.
Here is a copy of the report: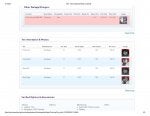 Ok so all my worrying about excess fees was for naught. They only wanted to charge me for the damage that happened when a bird bounced off the front bow tie, but only $21.80, no biggie.
Then on 3/24/14 I got a letter from Ally saying that they were charging me $3.90 for the excess miles and to please pay promptly; I used the same bill pay settings that I had I paid all my monthly payments with to send in the amount requested. They said once they sell the car they would send the Final Account Settlement. BTW they did not mention or charge me for the bird bowtie damage +1 for Ally
SUMMARY
So this morning I put a check in the mail (no bill pay this time) to close this chapter of my life out. Too bad they did not credit me the $3.90 that I sent via bill pay, but it is not worth fighting for. I just sent them the full amount requested to get this over with ASAP.
I do wish they would have told me what they got for the car as my residual was $29,599.90, and I know they did not get that much. Of course the did keep the $7500 tax credit, so that lessens their loss.
So there you go, now you know a little more than you did before...peace brothers and sisters!