Discussion Starter
•
#1
•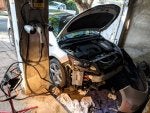 Hey Folks, after 129k relatively problem free volt miles I had my first issue. Long story short my car wouldn't charge, no CEL's. Just "not able to charge message" it ran ok on gas alone.
I googled and tried changing the charge port socket for a new one but that didn't fix it.
So I took it to the dealer and they said its either the charge port or the charge module behind the bumper. They wanted $300 to pull the bumper and check the charger so I said no thanks.
I found a used 2011 charger near my house for $300, bought it and saturday I swapped it out. So this might help some people with the same problem. I had two complications.
The first one was one of the green bulkhead fittings for the cables had come loose, basically a loose locknut on the inside of the aluminum case (on the new replacement charger). If I had not fixed it moisture would have entered and caused rapid failure.
The other was the CANBUS comms connector was different. It was the last plug I connected and I found one of the plugs on the charger side had little bosses inside that crashed so would not insert into the car harness.
I fixed the two issues by opening up the new charger via the TORX bolts, the green lock nut was easy to access and tighten via a pair of long nosed pliers.
The connector problem I solved by swapping the cables, I used the pliers again to loosen the other green lock nut, remove the 3x CANBUS connectors from the PCB and swap the whole cable assembly for the part in the old broken charger.
This all worked and my car is running and charging as normal now! so yay
My question is on the cooling system, I expected that my coolant level would drop a little and I bought approved dexcool to top it off with. However it hasn't. I didn't lose a lot of coolant when I did the swap but a few cup fulls leaked out.
Now it seems I might have an air plug somewhere? I've been trying to find a coolant schematic for the car but can't seem to locate one. The few I have are for the battery circuit not the charger.
Does anyone have the charger coolant system schematic? where does it go to? it seems to go into the main radiator, but I'm not sure?
P.S. I will upload a pic of the part I think actually failed, the main AC power comes into a DELTA EMI module and exits as a red and black wire, I believe it is DC and is rectified inside this DELTA part. I plan on testing it and trying to repair the old charger module.