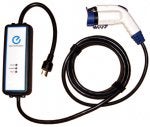 Mark at "EVSE Upgrade" seems to think that the 240V only upgrade is more popular than a 120/240v auto-switching upgrade. I can't believe it...so I decided to see if he is right.
Specifically, which portable EVSE option would you PREFER, 120V only, or 240V only, or 120/240V auto-switching.
It really is a no-brainer.
Update: Turns out the 2013+ stock EVSE had the ability to do 120 *and* 240 switched charging all along (see thread below), which is exactly what i was saying. In fact, i believe i had a thread proposing this long ago, and i just didnt have the electrical know how to follow it through (i do software, not hardware).
Thread with youtube showing how easily it is to convert 2013+ stock EVSE to 120 and 240 charging:
http://gm-volt.com/forum/showthread...-how-to-modify-Voltec-L1-EVSE-to-do-L1-and-L2