I compared 24 months of data for the my 2017 gen2 Volt Jan 2017 through Dec 2018 against 24 months with my gen1 Volt. I bought my gen2 Volt Dec 30th 2016. The gen1 data covered Jan 2016 through Dec 2017.
Its kind of a cool chart because it shows a bunch of different things.
The gen2 is better, but of course I park my gen2 at work in a covered garage and my gen1 parked in the sun
With the hot Austin summers the mpge from the plug hits a minimum of ~110mpge in August due to the AC, and the battery TMS cooling when charging.
A second minimum of 111-112mpge occurs in Dec and Jan. Austin has mild winters, but occasional cold snaps require battery power to heat the car. Gen2 heated seats helps.
The most efficient months are March and Oct/Nov when the mpge ~121-122mpg and little heating or cooling is required
Overall my gen2 mpge ~115mpge compared to EPA 106mpge. 240v charging is more efficient, more so on the gen1 than the gen2. Both cars were primarily charged on my ClipperCreek at home at 240v overnight with daytime charging as needed; along with occasional opportunity charging while traveling or locally.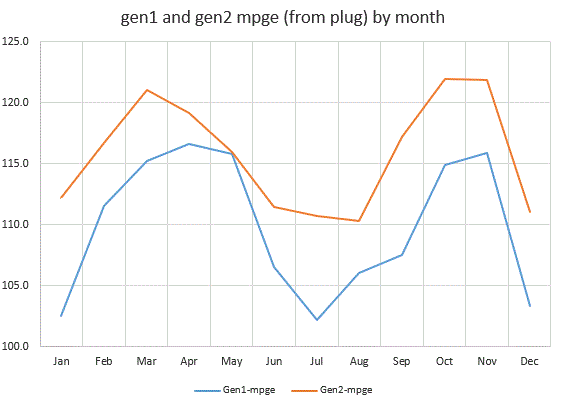 Here's the equivalent inverted chart for watt hours per mile. mpge=33.7/whm. I gathered the data from mychevrolet.com, filling in missing charge events based on the screen displays kwh/mpge display along with fudge factors based on that months data. My chevrolet has gotten increasingly unreliable the last week of 2018; although a similar unreliable period occured in Dec 2017, Jan 2018. For both gen1 and gen2, I calibrated mychevrolet against Chargepoint; gen2 is spot-on; gen1 was low by 2.5%-3% so I adjusted the gen1 data slightly. My gen2 has 19300 EV miles (86% EV) in 24 months. My gen1 had about 15000 EV miles during the 24 month period.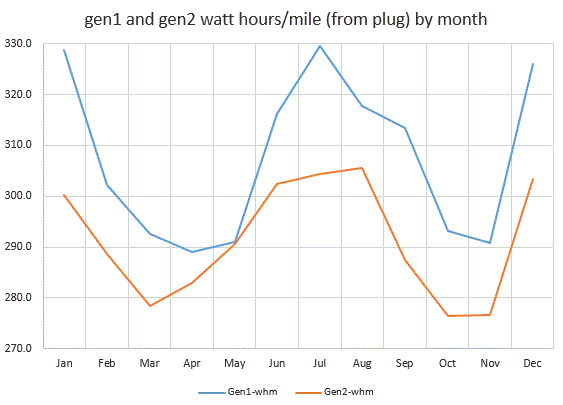 Overall, my gen2 mpge is about 8.5% better than the gen1. I also tracked mpg; gen2 gets about 10% better ICE mpg than the gen1; 39mpg vs 35mpg mostly on interstates.