Discussion Starter
·
#1
·
I
HATE
taking a car in for any kind of service. About 25% of the time, the service guys do some sort of damage, cosmetic or otherwise.
Anyhow, I had to take my Volt to a tire place for a proper fix for a tire leak. It involved taking the tire off the rim and installing a one-piece patch/plug combination from the inside of the tire. The patch works great, but the rim got covered with all sorts of black gunk (removable), and the rim got a few minor dings (not removable).
So, I was not looking forward to the 7,500 mile Volt tire rotation, so much so that I still had not done the rotation by 9,000 miles - all those dings waiting to happen!
Solution: I did it myself!
Here's the rotation pattern from the owner's manual.
I went to Harbor Freight Tools and got two 1 1/2 ton scissor jacks (item 66907), mentioned in other posts.
See:
http://www.harborfreight.com/1-1-2-half-ton-scissor-jack-66907.html
Here's one jack beside my Volt.
Here's the jack under the jack point on the Volt. The jack has not yet been extended quite enough to contact the car.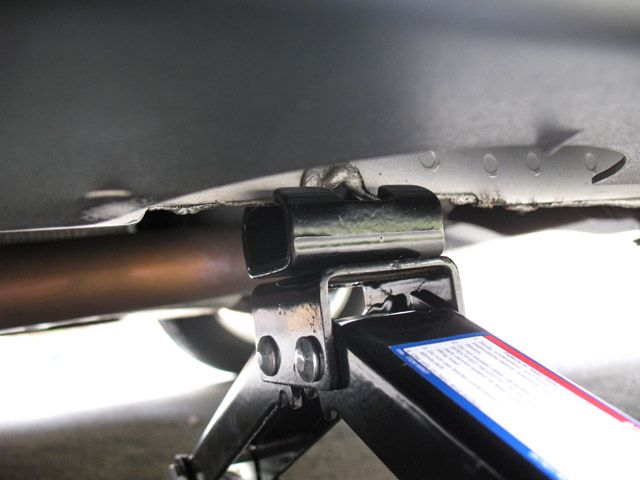 Here's the Volt jacked up on one side. I swapped the tires front to rear.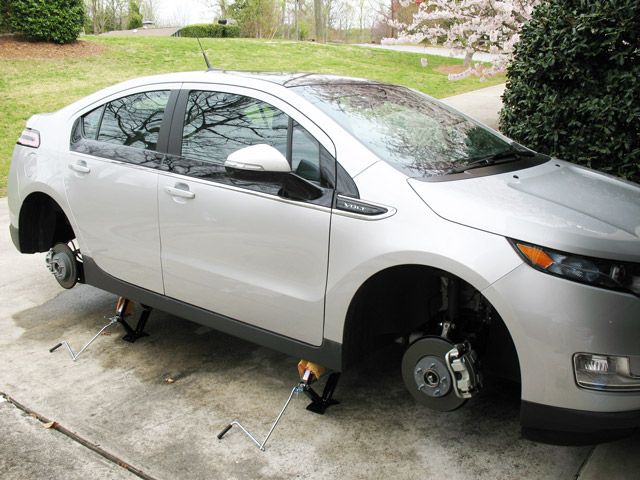 After I swapped tires front-to-rear on one side of the car, I jacked up the other side and swapped those tires front-to-rear also. Then, I jacked up the front of the car, and swapped the tires side-to-side. The end result is the tires have been rotated in the pattern shown in the first diagram in this post.
Next, I used a TPMS reset tool and followed instructions in the Volt owner's manual. I got an ATEQ VT5 tool, discussed in other posts. I got it from TireRack:
http://www.tirerack.com/accessories/detail.jsp?make=ATEQ+TPMS+SENSOR+TRIGGER&partnum=VT5&ID=2006
The TPMS tool worked perfectly the first try. Just hold the stubby "antenna" of the tool against the tire, about 1/2 inch from the rim, right by the valve stem.
You can see that I have put a number on the tire rim just behind the valve stem. That way I can easily keep track of the performance of the patched tire, and keep track of other things as well. (Probably also says something about my personality, but let's not go there.)
I also recommend using a quality torque wrench to tighten the lug nuts, and use a bit of anti-seize compound on the lug bolts.
So, everything is perfect until my wife drives up. I had taken the opportunity to thoroughly wash the tires and apply tire dressing, so the Volt tires looked great! My wife then asks me to wash and apply tire dressing to her tires as well!