Hi guys,
So a couple of days ago I went to charge my car on a public station where was another Leaf charging. When the owner of the Leaf went to cancel the charge (2 minutes after I did start my charging) the station went dark. I went to retry charging but the car was showing the information Service High Voltage Charging System. It's my first real issue with the car after about 2 years of ownership.
Turned the car on and off, same error. Tried to charge the car again, no go, solid yellow light. Cars runs ok, battery coolant is at level and the battery charges in mountain mode, so it makes me think that it was some issue with the public charger that triggered the error on the car.
Went to the dealer the next day, they can only look at the car in 3 weeks time. Instead of running on petrol I ordered a cheap ELM397 Bluetooth code reader to try and reset it.
With Torque Lite the only error present is P1E00, as soon as I remove it it appears immediately again. I know there needs to be another code associated with it, but I can't seem to be able to read it. Tried other apps like Carista and Car Scanner and it's the same, only that error present.
Tried to use MyGreenVolt to check the car stats and only get the engine temperature. If I try to run the car on petrol it gives me information about fuel usage and average speed. I pulled the OBD reader with MyGreenVolt still connected and the average speed doesn't update, so that info is coming from the reader and not the phone sensors I think.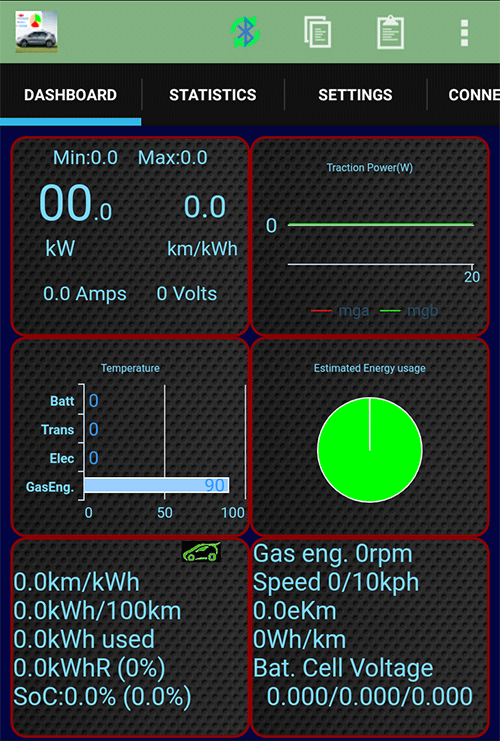 Could this be an issue with the car itself, the OBD port or is it just the adapter? I've search around here, other forums and the internet and people say they can use these apps with the cheap BT adapters.
Anyone has similar issues?
Edit:
Just tried the adapter on my wifes car, works great (2006 Smart Fortwo), gives lots of information from the car sensors. So the adapter seems to ok.