The Chevy Bolt comes with 17" x 6.5J offset 44, cast aluminum wheels with Michelin all-season Energy Saver A/S 215/50R17. The tires are ~25-7/16" diameter. These are self-sealing tires, except for punctures on the outer edges of the tread or in the sidewall. So, you may need a spare, whether to keep in the garage, or in the car.
You have several options for a spare tire, courtesy the Chevy Cruze. There is a compact "donut" spare as well as full size. Of course, you could also buy a 5th Bolt EV wheel. Note that the Gen 2 Volt has the same specs for a spare, so if you have a 2016+ Volt and a 2017+ Bolt, you could share a spare between the two.
Spare Wheel Part Numbers and Specs
2011-2015 Chevy Cruze 16x6.5 compact, steel wheel, 5x105mm, 56.6mm center bore, offset 39mm
Steel Wheel Stampings (front): 4.00BTX16H2 , DOTE J , K4 13 USA, BNX 16, GM IS25
Steel Wheel Stamping (rear): 092213 K4 21 16x4 E DOT USA
Some report spares from a 2012-16 Sonic (also having a 5x105mm lug pattern) will also work.
Cruze GM Part #13259234, replaced by #13412196. Apparently #13259230 is suitable as well.
Tire: Maxxis T115/70R16, DOT UYPY - ABC, Sidewall 1 Poly, Tread 1 poly 2 steel, ~22-5/16" diameter. Maxxis part number is TP09685500.
Where To Buy
You can find these spares at the local auto-salvage yard (~$10-$25), on ebay (~$60-$100), and through a Chevy dealer (kit #84034699 - $502, kit #23315255 - $330 see
http://gm-volt.com/forum/showthread.php?208561-2016-Spare-Tire-kit-part-number
.).
I bought mine at a local auto-salvage yard for $10. It was from a wrecked 2014 Cruze, is in like new condition and came with a storage ring, a foam insert, wheel chocks, and a tool bag. All for $10!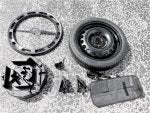 Other Equipment Needed
Scissors jacks
19MM socket wrench
Wheel chocks (Harbor Freight item #97130, ~$8)
Lug nut torque wrench capable of 100 pound-feet
Plastic sheet to lay on
Gloves
Relearn Tool for the TPMS. My 2011 Volt TPMS tool works on my 2017 Bolt EV. So even though the Volt uses 433mhz, and the Bolt uses 315 MHz, my tool is capable of doing both.
I picked up two scissors jacks ($12 each) from some Chevy S-10's at the auto-salvage yard. These have a bump at the top that nest into holes on the Bolt. Even though the Bolt has a lot of frame stiffness, I got two jacks so I can lift the whole side of the car without putting extra stress on the battery pack and frame assembly. I grind off the L shaped handles on the jacks and use my 3/4" socket with a home-made crank handle (Harbor Freight and some torch metal smithing) to raise the jacks.
Mount Spare on Rear, Never Front
Note that because they are smaller diameter than the Bolt's wheels, compact spares should always be mounted on the rear to avoid damage to the Bolt drive-train. If you have a flat front, mount the compact spare on the rear, move the full-sized rear wheel to the front.
I would not recommend putting a smaller diameter spare on the drive axle (Bolt or Volt front). A significant difference in the outside diameter of the tire (more than 1/2") will cause the differential to seriously overheat. That could lead to a very expensive repair.
If you had absolutely no choice, the general advice is to keep your speed under 50 mph, and drive no more than 50 miles. Then park the car for 2 hours or more to allow the differential to cool before doing it again.
A smaller-diameter tire on the drive axle can put a lot of stress on your differential, which thinks you are constantly making a turn and is working overtime to compensate for the different axle speed.
Also, donut tires are narrower than the standard tire with a smaller pavement contact area. Reduced traction and increased stopping distances is a result, making handling in an emergency maneuver potentially unpredictable. Plus, ABS and traction control won't be as effective at keeping you safe.
This is why if you have a flat front tire on the Bolt or Volt the recommendation is to replace the rear tire with the spare and use the rear to replace the front flat.