Discussion Starter
·
#1
·
The Bolt does not have extendable visors to block the sun coming from the side widow. You can buy an $18 piece of plastic and two elastic straps on Amazon, but I want something like the extendable visors on my 2011 Volt.
While I was at the local pick and pull auto salvage yard hunting for a donut spare from a Cruze, I also notice the 2014 car had extendable driver's visor. In fact, both Cruzes in the yard had them, one with lighted mirrors, the other with just a mirror. The dimensions seemed to match my Bolt's visors. For $6 each, I decided to experiment.
They work.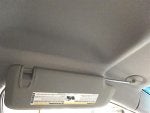 I removed the visors, the white plastic retainer ring that slips between the headliner and the roof steel, and the power connectors and associated wiring in case this works and I want to wire up the lights at some later date.
After gently removing the cap on the headliner attachment, I used a Torx T15 bit to remove three screws.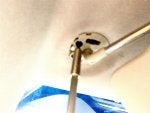 Then pulled back and down a bit on the visor to expose a gap, poked around until I found 2 interlocked J hooks and gently forced them apart with a small, thin flat blade screw driver. Repeated on opposite side. There was also a winged clip that I managed to dislocate so the visor could drop free. Pulling down the headliner I found the wire connector and unclipped it, allowing the full removal of the visor. Later, I came back and snipped out a large chunk of the wiring harness that connected dome light, visor mirrors, front cabin overhead lights.
The retainer slips out through the front of the headliner (same as the Bolt).