Volt Fluid Level Inspection sheet (PDF):
View attachment Chevy-Volt-fluid-levels-inspection-sheet.pdf
Click to download and print for an easy way to keep track of your fluid levels.
Here's a low quality image to show what it looks like: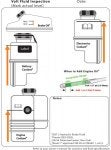 I used a Brother P-Touch label maker with clear labels to create a reference scale for my two front tanks.
I printed out I : I : I : I on two labels and stuck them sideways on my battery tank and my electronics tank.