EDIT: This one is sold but I have recieved alot of inquires about custom builds. YES I definitely take orders for anything you would like to see in your EVSE. Lead time is only 3 days. Private message me or if you have a general question you think the rest of the community can benefit from post it here.
30A 7.2kW Deluxe OpenEVSE waterproof outdoor unit For Sale
I bought a 2013 Nissan LEAF and love it! I have a heavy electrical background and was inspired when i saw some DIY units for sale here. Work has been very slow and my employer is still weeks behind in paying the other employee and I.
This has caused a severe financial hardship. It's a very stressfull time with 2 little boys. I need to support my family anyway I can and am hoping to build and sell a few EVSE's. Thanks for reading this, Now on to the fun stuff!!
I have a Deluxe 30A 7.2kW OpenEVSE for sale with a Yazaki 30A J1772 15 foot cable. 50A 4ft. power input cable with 14-50 plug. This unit operates on Level 1 120VAC or Level 240VAC. Using optional adapters you can plug this into a standard house outlet for 120v use. This is a 30A/24A continuous EVSE. This is mounted in a PolyCase Polycarbonate Enclosure with Clear Cover - NEMA Rated for outdoor use. This unit requires a 40A 240V circuit with a nema 14-50 outlet for full 30A/24A potential. However you can dial it back to what ever you have for a supply, see below. The cost is $400 plus $25 for UPS ground shipping in the continential USA
It will charge any J1772 compliant car at up to 30A/24A continuous
The EVSE may be set in multiple steps on Level 1 and 2.
Level 1: 6,8,10,12,14,16,18,20,22,24,26,28,30A
Level 2: 6,8,10,12,14,16,18,20,22,24,26,28,30A
Memory is retained for each level separately.
This advertises the available current to the EV which intern draws what it is designed for. You can go into the menu and set it for less if you take the EVSE on the road with you to fit what you may find in the wild. Watch my Linked video below for how to do this and more.
I can now customize the firmware to whatever values you like before shipping. I chose these values to give the user flexability for various outlets found in the wild. I stop at 30A as this is what the relays and cables are rated for. Per NEC code any load running over 3 hrs must be de-rated 80%. I included values over 24A for <3hr. convenience charging. I go higher on the 120v side than you normally get so if you use a RV 30A outlet you can take advantage of faster charging. In my test my Nissna LEAF could pull 2.64kilowatts (22A @ 120V) for example.
Case Specs:
Case measures 7.63 x 4.63 x 3.09 in.
Designed to IP65 of IEC 529 and NEMA 1, 2, 4, 4x, 12 and 13 specifications
Silicone rubber gasket makes this ideal for outdoor use in a wide range of adverse conditions
Molded on surface-mounting flanges
Captive, stainless steel screws thread into brass inserts for cover on/cover off applications
UL Listed to UL508-4x specifications (File E194432)
Main Board Specs:
Open Source - Hardware (Creative Commons 3.0 BY-SA) and Firmware (GNU GPL v3)
Fully supports SAE J1772 Recommended Practice
Software adjustable pilot (6A – 30A)
4W Switch Mode Power Supply Integrated
Built in GFCI with 20ma trip point
Supports all J1772 states including "ventilation required"
Supports Diode check
AC L1 – L2 auto detect Current setting for each
Ground verification and Stuck Relay detection
Specs:
OpenEVSE v.2 board running newest firmware
All nults/bolts/washers are
STAINLESS STEEL
The base plate inside is 1/4" thick high quality plex ,no thin stuff here.
The relays are quality Potter & Brummfiled 30A units.
The input cable is 50A 4ft. 6ga. with the popular NEMA 14-50 plug. This is the one all the Tesla guys have installed as well as the standard at RV parks!
you can even use the plugshare app and set the filters to include NEMA 14-50 and see all of them in the country, there are a suprising number of them.
It has a monochrome black on yellow display
I used a silver color
metal
blue lighted ring Menu/Select button. with IP65 water resistance rating
Heat shrink tubing used through out.
All parts are new.
here is a link to the owners manual:
https://code.google.com/p/open-evse/wiki/Users_Guide
Here is a video on me demo'ing the unit:
http://youtu.be/hD3S8TdBhYE
If you would like the unit customized with a twist lock plug for example or something other than the Nema 14-50 plug I can do that for the difference in parts.
This is sold ASIS but I guarantee it will work upon receipt. If you would like to see it in action on your EV we can arrange that thru private message at my home. Local pickup in Las Vegas near Smith's grocery on E Flamingo or near The Strip is available. Payment is by Paypal if shipped or cash for local pickup.
Please post any comments or questions here or PM me if you like.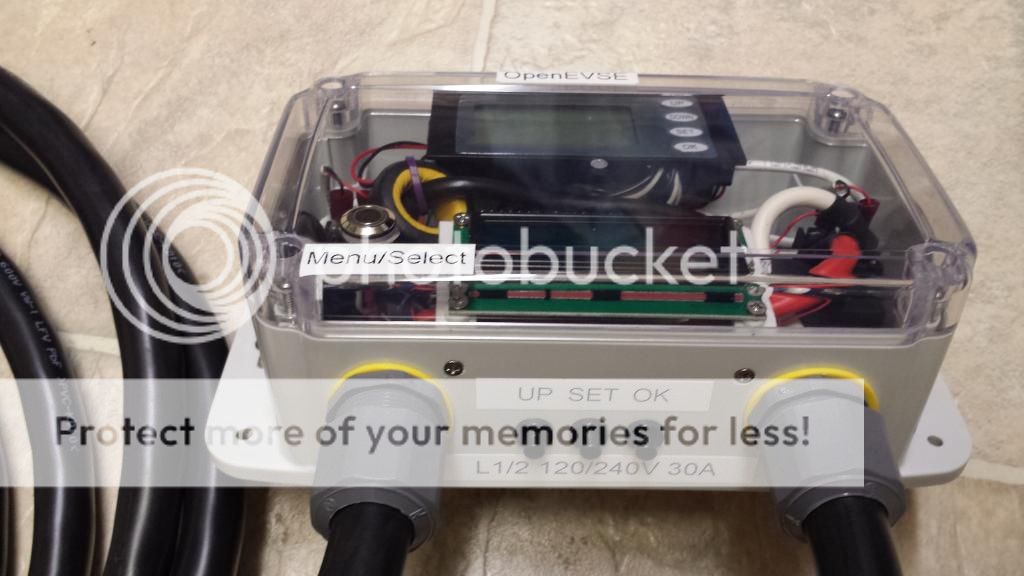 LEGAL DISCLAIMER: Because of lawyers I have to add this. This EVSE is intended for use ONLY by responsible adults. Because they are hand-made, they are not UL listed - but are made from UL listed parts. 240v electricity is serious business and caution should be exercised while using any EVSE. For safety's sake, do not use this EVSE outdoors in inclement weather unless it is a model that specifically says Outdoor or Waterproof. You should always install a GFCI breaker not a standard one for any and all circuits a person can come in contact with This EVSE has a GFCI built inside that protects from that point down line. (The J plug side of the the EVSE is safe for outdoors in all weather). BY PLACING AN ORDER WITH US, YOU ASSUME ALL RISK ASSOCIATED WITH USING THIS EVSE AND AGREE THAT WE ARE NOT LIABLE FOR ANY DAMAGE THAT MAY RESULT FROM THEIR USE.