Discussion Starter
·
#1
·
Hi:
So my LED replacement "bulbs" came in last week and I ran into a few snags. Here they are in detail in case others are doing the same mod. Note, I *will* solve this problem. So if you want to wait and save yourself a lot of pain, please do so. I'd love others to benefit from my work.
Anyway, on with the list of issues:
Long LED modules are too heavy for the front headlights
The longer units (which tend to be brighter) act as a lever and tend to fall out. Shorter units will not have this problem.
You need to make sure the retainer "wedge" on the LED module is defined enough
It seems that a lot of replacement LED "bulbs" don't have the retainer wedge on the base of the module molded "high enough". Because of this, the retainer pin on the light housing doesn't hold the bulb in tightly.
Picture notes: The black LED module is too long. The silver LED module is round and flat bottom which really helps support the LED modules into the socket. Amber factory bulb for reference. Also note that the wedge on the base is better defined on the silver LED module as well as the amber glass bulb.
The LED "bulb" base needs to be circular and flat
This will help support the LED module in the base when inserted.
Picture notes: Stock amber bulb inserted into the socket for the front turn signal. Notice the flat base on the bulb in relation to the socket. This helps support the bulb.
Picture notes:Flat bottomed LED module works perfect. This particular one isn't as bright as I like.
Picture notes: Lack of flat base on this LED module allows for very little support and when combined with the length of the module, will fall out in short order while driving.
You will need load resistors on the turn signal
This is a bummer for me as I wanted to maintain the efficiency that the LEDs have to offer. At least it is only for the turn signals.
The backup lights require 7440 bulbs- finding LED "bulbs" that aren't 7443 is difficult
When you look for 7440 led modules, they almost always show 7443 bulbs which have four wire pins instead of two. The 7440 bulb only uses the innermost two pins and NOT the outer two pins. See picture below. The problem is that the bulb holder for the backup light in the rear cluster has "blocker pins" in the socket to keep you from inserting a 7443 style bulb.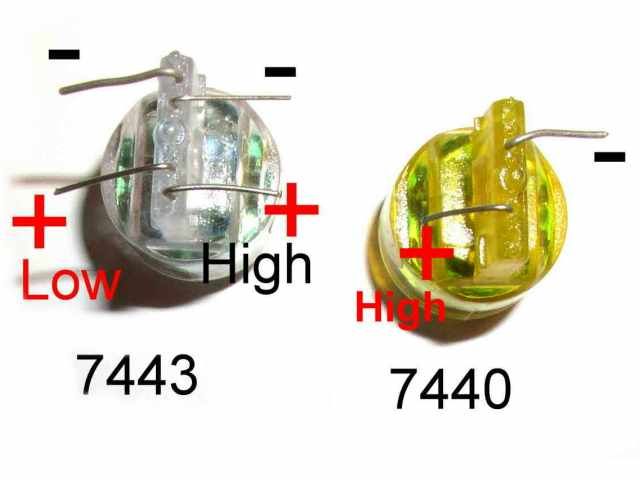 Picture notes: I found this bulb reference online to help explain the problem.
Picture notes: This is the backup light socket. Note the blocker pins where the outside pins on a 7443 bulb would go.
Picture notes: Bulb reference from 2016 owners manual
So the above items are my challenges so far. I'll update everyone as I make more progress.
-Ed