Discussion Starter
·
#1
·
I am experiencing crazy symptoms in my 2014 Chevrolet Volt.
As I was stopped at a traffic light, my vehicle completely turned off. I react to this buy trying to hit the blue power button and see the error message "Service Theft Deterrent System" but the car would not move. I end up finding instructions on this forum on getting out of Service Mode and was able to drive home. At home, I do a quick review of the car and noticed the courtesy light do not turn on when I hit the button. I find that the F7 fuse on the passenger side is tripped. I replace the fuse and the lights work again only to blow a few days later.
My first guess at the cause of these issues is the 12V battery since I have never replaced it and the battery would be around 4 years old. I order a ACDelco 47AGM Professional AGM and installed it and thought the issue would be no more as others suggested a bad 12V battery can cause weird problems in the car.
Fast forward 3 weeks later as I try to leave work and the car starts but goes completely dark. Pushing the blue power button does nothing. I ended up getting jumped using the terminal under the front hood and the car starts. As I drive home and approach a stop sign while hitting the brakes, the vehicle lights dim and the vehicle turns off. The car is moving and I have to apply a significant amount of pressure to the brakes to stop the car. I wait around a minute and hit the power button which the car turns back on. I eventually make it back to my garage.
I jump the car again and get the following messages in the dash screen.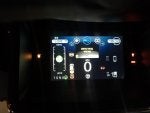 I have an appointment to visit my local Chevrolet dealership tomorrow for servicing. Does anyone know if this will be covered under the Voltec warranty? This car has been amazing to drive and I am at a loss of what is going on with the vehicle after replacing the 12V battery. Any thoughts?
Other weird issues is I sometimes can't charge at one of the free 240v chargers at work. These are provided by ChargePoint and free for any employees at my office. I do not have the delayed charging option turned on. Not sure if this is causing my car to go bonkers and turn off while driving.
-John