My 1st FMM ever started on Thursday afternoon, I was being forced to burn off 5 gallons of gas that my dealer put in when delivered back in Aug 16. So I thought I could just drive my usual routine (avg 30 miles a day) but soon discovered at 40+ MPG it was going to take about 7 days. So over the weekend I took so nice long road trips. I discovered a few things about the Gen II Volt. It's an awesome highway cruiser and ACC makes it even better. And as I kept driving the MPG kept increasing from an indicated 39 to a high of 45.2 when I finally ran out of fuel.
Yes, in the name if science I ran it out of fuel to see how it performed. In a word AWESOME. With ONE bar left on the gauge, that turned YELLOW and a LOW FUEL message popped up. I kept driving and eventually that last bar disappeared as can be seen in the attached photo's. I think I drove another 15 or 20 miles before I got the REDUCED PROPULSION messaged followed by the ENGINE NOT AVAILABLE message. I kept driving. The only thing different is you can't accelerate quickly, you glide away from stops but the car does get up to speed and can hold it. No drama.
I finally pulled into my favorite gas station and pumped in 2.5 gallons of premium (I splurged) and upon restart all the gauges looked normal but the ICE started and ran for about 2 or 3 minutes. I guess it was doing a diagnostic test.
Here are the two messages you'll get when you run the tank dry.
ICE NOT AVAILABLE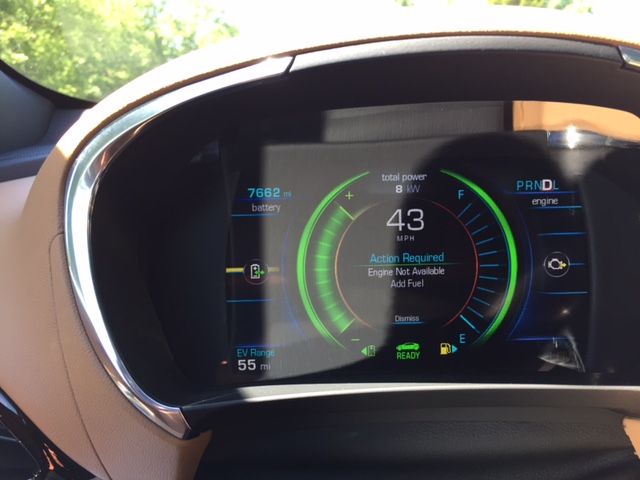 REDUCED PROPULSION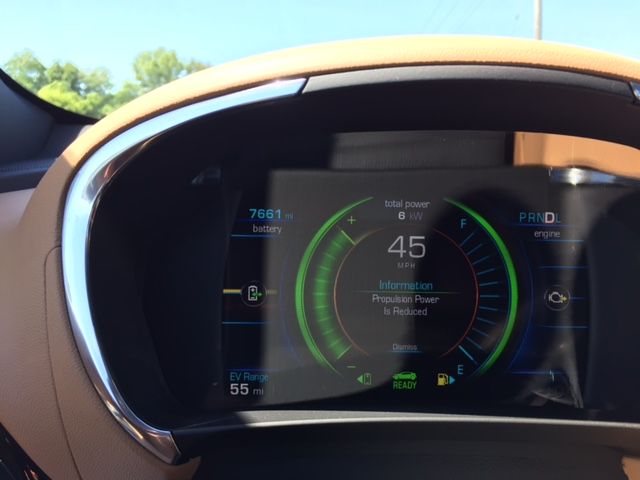 I'll post up my voltstats info after they post later this afternoon. I was at 99.3% electric going into today.
So after 10 months and over 7600 miles of driving I have used 7 gallons of gas. If the dealer had followed my instructions and not filled the tank I probably would had only wasted 2 or 3 gallons of gas. But it's good to know how good the Gen II Volt performs on it's ICE.
Cheers